Spring & Summer – The Perfect Time to Host a Neighborhood Sale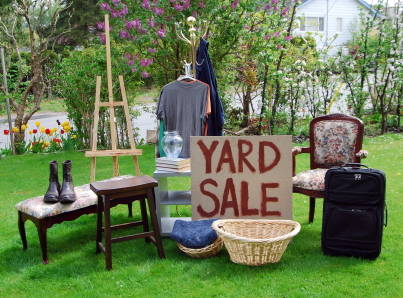 As the weather warms, so does the chance for a successful neighborhood sale! Whether you're hosting a yard sale, garage sale, tag sale, or estate sale – the goal is the same – to clear out clutter and beautify your home in the process! The following ideas may help you sell more and earn you a higher profit!
However, before you start sorting through your items approach your local real estate agent and ask for help. Whether you need additional signage or specific advice on items that make for a great sale in your area, real estate agents are a great resource, because they KNOW your area. If you are selling your home, your agent will likely be very involved because a yard sale can help gain exposure for your home and let the neighborhood know you are placing it on the market.
Using the following ideas, you can plan for success in your neighborhood sale and have fun while doing it!
Market Your Sale
Use advertising and colorful signs. Be clear on the address, day of sale and hours. Plan to set up items well ahead of your scheduled time, as many buyers will show up 15-20 minutes early and you want to be ready for them!
Set Your Prices Low
Price everything to sell with permanent black markers, using sticker tags or blankets where every item located in that area is the same price. If multiple families are involved make sure that is indicated with a letter or color to give proper credit.
Be Organized
Display items neatly and similar items together to give an organized feel on tables. Label sizes on clothing and place like  items together. Dishes are often better sold as sets (such as 6 glasses or 10 plates for a set price) rather than individually. If your items are displayed as clutter, people will be less likely to want to bring them into their homes.
Pay Attention to the Season
In the summer months, boogie boards, wetsuits and sunglasses will be a big hit but skis not so much! In the Fall,  unopened items, warm clothing and snow gear will definitely go fast!
Make Sure Items Work
Safely extend an electrical cord into your buying zone so buyers can test appliances and other items. You may also want to have test batteries available, if needed.
Plan to Package & Sell
Keep bags and wrapping supplies on hand for securing breakables and allowing buyers to easy carry their purchased items. Also, make sure you have a petty cash center that has a full-time attendant. Small bills and lots of change are a must for any garage sale so plan accordingly!
Decide What You Are Selling
Fast selling items often include jars and bottles, clothing, collectibles and antiques, unopened puzzles, jewelry, dishes, camping items, books, toys and dolls, and homemade treasures.
Need Ideas For Your Kids?
If you have a child or teen who likes to sew, have them spend some time crafting dresses for dolls or aprons with spare material. If beads or stamps are rampant in your house, have your children make bracelets or cards to generate some extra money and get the thrill of entrepreneurship.
When The Sale Ends – Let It All Go.
Once your sale is over, pack remaining items into boxes and immediately take to your local donation center, unless you have scheduled an organization to pick up your items directly. That way, you can enjoy the money you've made AND the peace of mind knowing that the items will not return to your tidy home.
Whether you are buying or selling a property,  our personal service and professional experience will allow you to achieve your goals. Contact Marci Pruett at (858)- 531-1119. We would be pleased to serve you.
Comments are closed.