Plan a Summer Party at Your Home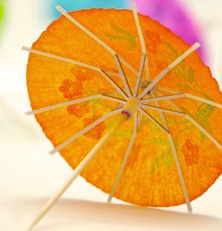 Summer is a great time to throw a party in your home.  The weather is warm, crowds are relaxed, and the food can be fantastic!
Whether celebrating Independence Day, a birthday, or just throwing a barbeque to welcome your friends, you'll enjoy the easy clean up and lower preparation that comes naturally with hosting a party outdoors.
The following simple tips can help you deliver a party you can participate in and actually enjoy as well!
Things to think about:
Shaded areas to congregate – The Summer sun can be quite toasty so if you are planning an event in midday, make best use of areas covered with shade.  Whether under trees, screening, or tents, provide a way for guests to beat the heat.   Better yet, plan your party for the late afternoon or evening.  Remember though, if the party will be after dark you need to plan adequate lighting to ensure the safety of your guests.
Choose a theme & music – Even if you focus on just 2-3 colors as your theme, it shows care when you take the time to organize your party's decor.  You can also choose outdoor oriented themes, such as luaus, pirates, etc. if you are looking for a bit more adventure!  Make sure you have a song playlist prepared ahead of time so your music can flow without you having to worry about coordinating it during the party.
Choose your food & drinks – If you are preparing all of the party food, PLAN AHEAD.  A vendor or hired help can monitor food safety or DIY  by preparing a variety of foods that can be left at room temperature for several hours safely.  Also, make sure there is plenty of food!  The same principle applies to drinks.  You can choose to provide coolers or ice filled buckets of beverages or have an open or attended bar, as long as your provide enough.
Think about Flow & Activity – Before your party, consider how guests will interact with one another and your home's environment.  Where can you provide open mingling space and where will your seating and eating take place?  How can you make both areas more inviting?
One More Consideration – Who will your guests be?  Obviously planning an all-adult party is much different from planning a party for families or children.  Think about how your guests be entertained with each other.  Will it be through conversation or dancing, planned activities or games, or through the use or hired performers?
Do you have other tips you can share for hosting a party in your home?  I know you do!  Feel free to share your best tips with us; we love hearing from our dear friends and clients!
Have a GREAT party!
Comments are closed.