Walkable and Bikeable Communities.. How does yours measure up?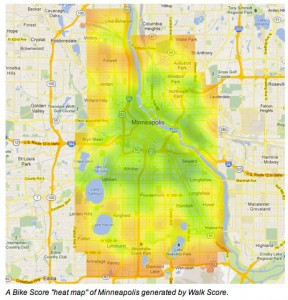 Location, location,location. You've heard time and time again that when buying a home, location is what matters most…. and for good reason! For that purpose the concept of Walk Score was created. Dedicated to the idea that "less time in the car means more time for the things you love," Walk Score, developed in 2008, has made it easier for home buyers to find a home that is closer to the activities and places they love.
Providing ratings from 0 to 100 to determine a neighborhood's walkability, buyers can decide if the area they are considering is more Car-Dependent, Very Walkable, a Walker's Paradise, or somewhere in-between. If you are searching for a home, you will also enjoy visiting tools such as Transit Score which helps in calculating the cost of your commute!
Bike Score was introduced this week in honor of Bike to Work Week and suggests areas that are best suited and not so desirable for bike riding. Considering such issues as hills and bike lanes, along with "road connectivity" and a town's biking population, communities have been rated using the same type of scoring system, with 70-100 being named Very Bikeable. Topping that list were Minneapolis, Portland, and San Francisco.
The goal of Bike Score is to help cities measure and then improve their bicycling ridership. Check it out and see where your town rates by clicking here.
San Diego is the 18th mostwalkable large city in the U.S. with a Walk Score of 56. San Diego's most walkable neighborhoods are Horton Plaza, Core-Columbia, the Gas Lamp Quarter.
If you would like more in-depth information about places where you can walk and ride in our local community, please contact us. We are here to assist you with your  Real Estate needs!
Comments are closed.