Beat the Heat in Your New Home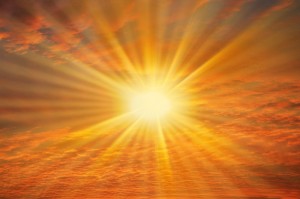 Are you ready for Summer? It's time to start stocking up on extra bottles of water, sunscreen and snazzy sunglasses! The following tips can help you brace your home for a hot summer too. 🙂
First and Foremost, Be Cool
If you plan to use an air conditioning unit, take the time now to make sure your filter is clean and the refrigerant level is correct so you don't waste energy during use. Calling a service technician before summer hits will help you avoid a costly emergency visit should your air conditioning unit malfunction.  You may also want to invest in a programmable thermostat to keep your energy costs low this year as well!
Don't have an air conditioning unit? Stay cool by sealing and caulking your windows and doors. Then,  circulate the air with fans and strategically opened windows to create a breeze inside of your home. You can also install a whole-house fan or ceiling fan (have it rotate counter-clockwise) to take advantage of cooler nighttime temperatures.
Second, Consider Harnessing the Sun's Power
If you have been thinking about installing solar panels on your roof, act now to get the most out of your panels this summer and throughout the years to come. Consider solar window film as an option for keeping your home cooler.
Lastly, if you can't beat the heat, embrace it, by lounging poolside or taking advantage of local parks where you can enjoy the sunshine under the shade of well-established trees!
Happy Summer!
Comments are closed.